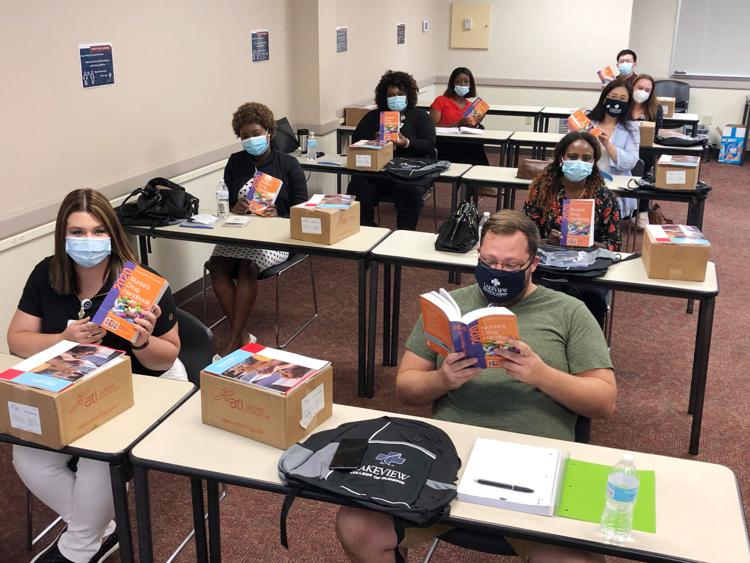 Students aren't shying away from a nursing career in light of the coronavirus pandemic.
Lakeview College of Nursing officials say they've had an increase of about 10 percent in overall enrollment from the fall of 2019 to the fall of 2020.
"Our new student enrollment has also increased by 22 percent from the fall of 2019 to the fall of 2020," according to Amy McFadden, coordinator of recruitment/marketing/scholarships for Lakeview College of Nursing with Danville and Charleston locations.
McFadden added about students going into nursing and health care fields since the pandemic started, "There has been virtually no change in the desire of students to become nurses. Students we talk to are still very interested in making an impact on the world by caring for others."
"However, there have been some challenges with regard to prospective students being able to progress into our program from other colleges and universities. This is primarily due to students not being able to enroll in specific foundational classes that are required in order to begin our nursing program. If a class they need has been canceled, it may delay their ability to transfer into Lakeview by a semester or longer. Additionally, many students are experiencing financial challenges during this worldwide pandemic which may slow down or alter their educational plans," she added.
At Danville Area Community College, Susan Koss, director of nursing education, also says COVID does not seem to have had an effect on their student enrollment.
"In the fall of 2019 our records reflect that we had 55 applicants for 32 seats. In addition we had eight applications for our full time LPN to RN class, which started this fall, and we had five seats. In this current fall of 2020 we had 72 applicants for 32 seats. With the increase in applications, we project seeing a bright and prosperous future for the nursing program. We would encourage those who have an interest in nursing to reach out and inquire about our program," according to Koss.
Lara Conkilin, director of marketing and college relations at DACC, too says interest in the nursing program remains steady. Students hoping to be accepted into the program have a year of prerequisites to complete before they can be considered.
DACC also started a technology loan program for students when online classes started in the spring.
"It caught many students off guard without the access and resources they needed to do online classes. Thanks to CARES grant funds, we were able to purchase laptops, hot spots, camera/microphones, headsets, etc. which students can check out for the semester," according to Conklin.
Coordinator of the student service loan program Carla Boyd, who also is assistant vice president of student services and chief diversity officer on campus, said 73 students have borrowed laptops, webcams and other technology equipment.
She said since the shelter in place earlier this year, word spread about the loan program.
They didn't have a formal process initially, but now when a student need arises, it's "a much smoother process," Boyd said about the mechanisms in place.
Boyd said when students enroll, they're asked what their needs are, and DACC officials let students know what equipment is available to them.
The equipment is packed up and students can contact the assistant librarian to pick up the items. This also exposes the student to the library and possibly other services the college provides, she said.
If students can't pick up the equipment, DACC can deliver or mail items.
Classes also have changed for students at Lakeview College of Nursing.
"We have always Fpride in offering small class sizes so we are well suited to offer socially-distanced, in-person classes like we are doing this fall," according to Dean of Nursing Lanette Stuckey.
"Our faculty have been champions in adjusting to the needs of the students and the college during this pandemic. Last spring we transitioned from 100 percent in-person to 100 percent online within a matter of days. The faculty was and still is committed to online training to further hone their technical skills for teaching virtually," Stuckey said.
"This semester, we are using technology to connect a few larger class sections that are split between two rooms. In those cases, all students are still on-site in two separate classrooms. One instructor rotates between the classrooms but connects both through video conferencing. The majority of the classes had virtually no change in the manner in which they are offered other than they socially distanced and the students and faculty are wearing masks," according to Stuckey.